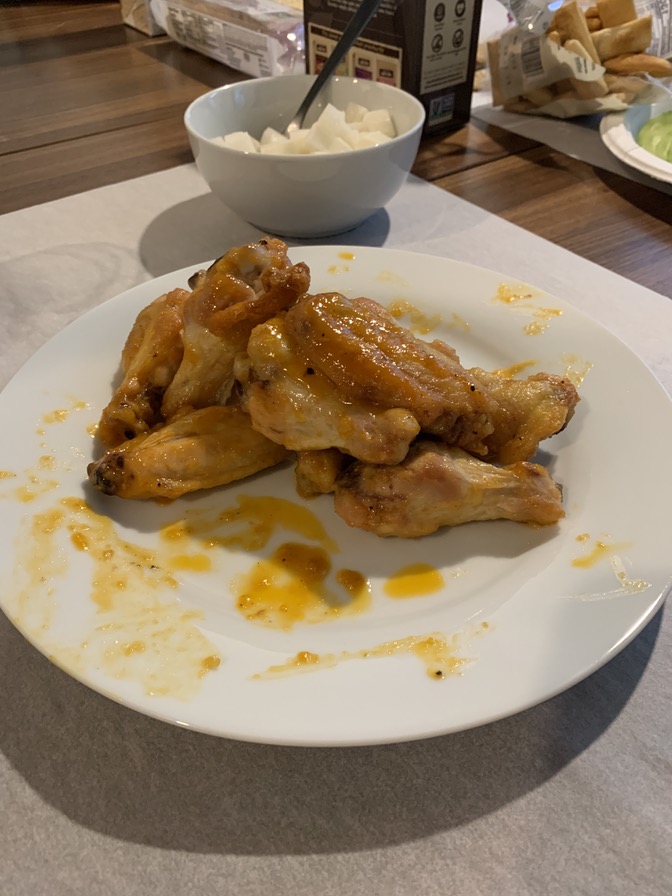 Roasted Chicken Wings
Total Time

3 hours

Active Time

20 minutes

Serves

2-3
Ingredients
4 lbs

chicken wings, separated into drums and flats

2 Tbsp

cornstarch

2 Tbsp

rice flour

4 tsp

salt

½ cup

vegetable oil
Notes
This recipe is one of very few ways I've found to get crispy skins on wings without deep-frying them. Note that the lack of a deep fryer doesn't make these healthy per se, but it certainly makes the cleanup easier.
For a traditional buffalo-style sauce, try this.
Directions
Whisk together dry ingredients in a large bowl.
Add wings and toss until evenly coated.
Line a rimmed baking sheet with a double layer of paper towels and arrange the chicken wings in a single layer on the sheet. Cover with plastic wrap and refrigerate for 2-6 hours.
Preheat your oven to 450ºF. Line another sheet pan with aluminum foil and parchment paper (If you don't have a second pan or don't want to get another one dirty, transfer the chicken to a plate and wash out the pan you used earlier).
Place the chicken skin side down in a single layer on the parchment-lined pan. Brush each wing with vegetable oil.
Roast for 15 minutes, then flip each wing and brush the other side with vegetable oil. Place the pan back in the oven, rotated 180º.
Continue roasting for another 15-20 minutes, until the skin is very crispy.
If you're using sauce, toss the wings in the sauce right out of the oven.
Serve immediately, but warn folks that the wings are still quite hot.
Drain off the rendered fat and refrigerate. Try frying stuff in it. You'll thank me.