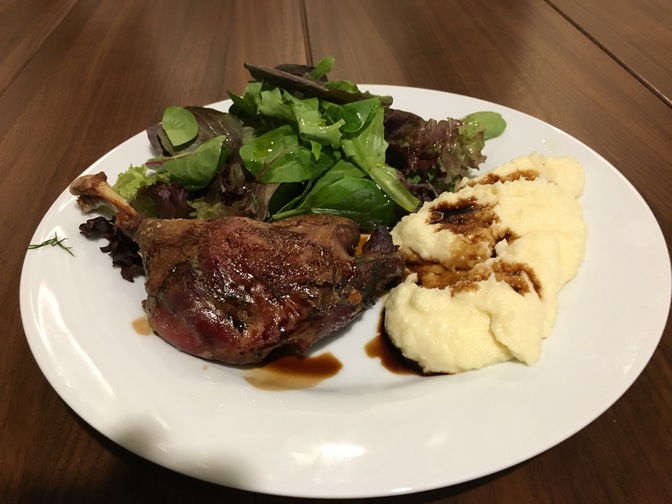 Slow Roasted Duck Legs
Total Time

2 hours 30 minutes

Active Time

30 minutes

Serves

2
Ingredients
Notes
Just in terms of ingredients, this is far and away the simplest recipe I'll ever post here. Because of that simplicity, the quality of the ingredients is paramount. Get the freshest duck legs you can, and use good salt and freshly ground black pepper.
One of the byproducts of this recipe is a decent amount (generally a few ounces) of duck fat. Save the fat, and cook with it later. If you follow this recipe and waste the duck fat, I'll know. And I'll publicly shame you on Twitter. Don't do it.
Directions
Preheat your oven to 300ºF and heat a cast-iron pan on the stove.
Pat the duck legs dry with paper towels and season both sides with salt and pepper.
Place both legs skin side down in the preheated cast iron and sear until golden brown and crispy, a few minutes.
Transfer the pan to the preheated oven and roast at 300ºF for one hour.
Flip the legs skin side up and continue to roast for an additional hour.
Remove the duck legs from the pan to a cutting board, tent with foil, and let rest for 20 minutes before serving.
While the duck is resting, drain the fat from the pan and reserve for future use. This is also a good time to contemplate making a pan sauce with the fond, but honestly the duck is quite good on its own, maybe alongside a nice bright salad.