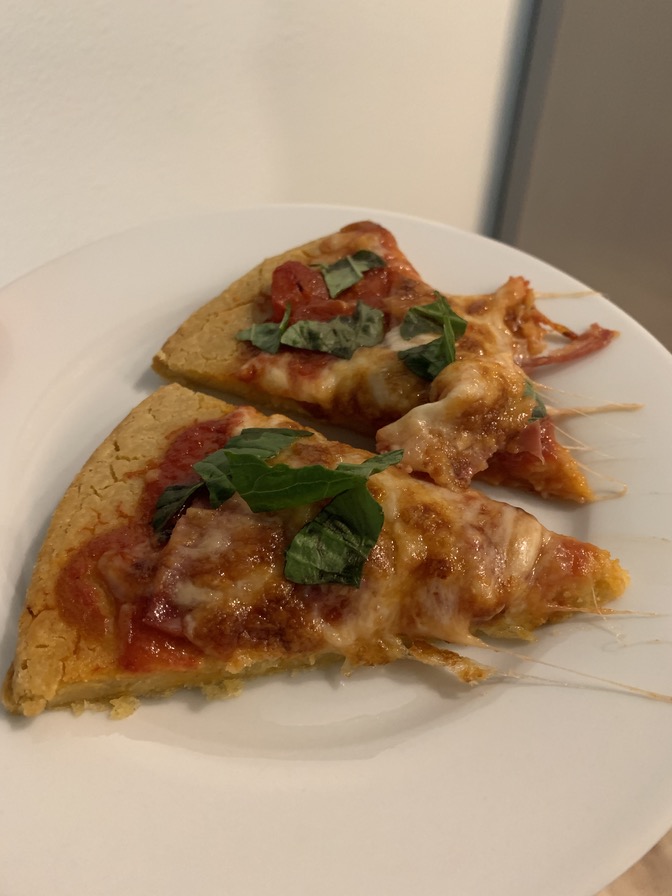 Chickpea Flatbread Pizza
Total Time

40 minutes

Makes

1 pizza
Ingredients
Crust
1 cup

chickpea flour

1 cup

water

½ tsp

kosher salt

1 Tbsp

olive oil
Toppings
pizza sauce, such as the one from this recipe
shredded low-moisture mozzarella

basil
Notes
Pizza with a thick chickpea pancake as the crust.
Directions
Mix the dough ingredients together in a bowl and stir with a fork to combine. Make sure all the big lumps are broken down, but don't worry too much about some small ones remaining. Let sit and hydrate while the oven and pan preheat.
Place a 10-inch cast iron pan into your oven, then preheat it to 450ºF.
One the oven is up to temp, oil the preheated pan, pour the batter in, and spread it out to the edges. Bake for 15 minutes or until the crust is set and slightly golden.
While the crust is baking, line a rimmed baking sheet with parchment and prepare the toppings.
When the crust is done, remove it from the oven, but leave the oven on. Transfer it to the baking sheet and apply the toppings as desired. If you're using the set of toppings listed above, hold off on the basil for now.
Place the pizza into the oven and bake for 10-15 minutes or until the cheese is melted and the toppings are cooked.
Switch the oven to broil to get the cheese golden and bubbly. Watch it constantly to avoid burning.
Remove the pizza from the oven, and transfer it to a cutting board. Cut the pizza into slices, tear stomp basil over the top, and serve immediately.