Pizza Two Ways
Fri, Feb 22, 2019

Recipes from this article
I've been on a bit of pizza kick this month, and that's been manifesting in me turning everything that could plausibly be a pizza into one.
I stared off with sourdough. A good friend gave me a ball of homemade mozzarella, and I knew immediately it was destined to melt and blister on top of a pan pizza. I'd made sourdough pan pizza before, but I've always done something fancy with it. This time, though, the goal was to provide a platform showcasing that fresh mozzarella, so I wanted to keep it simple: a garlic and basil tomato sauce, torn hunks of mozzarella, and some torn basil to finish.
This is based on Kenji's pan pizza recipe over at Serious Eats, but adapted to use sourdough starter instead of commercial yeast.
The first proof can take as long or as short a time as you want, but I often find it convenient to start the dough late the night before I intend to bake it and …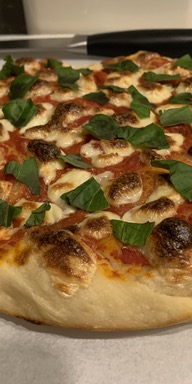 I will note that the recipe says to spread the sauce all the way to the edge, but in all the photos I have here, I was a coward and left a little naked crust. When I made the second one, I was a bit bolder (saucier?), and I recommend that approach fully.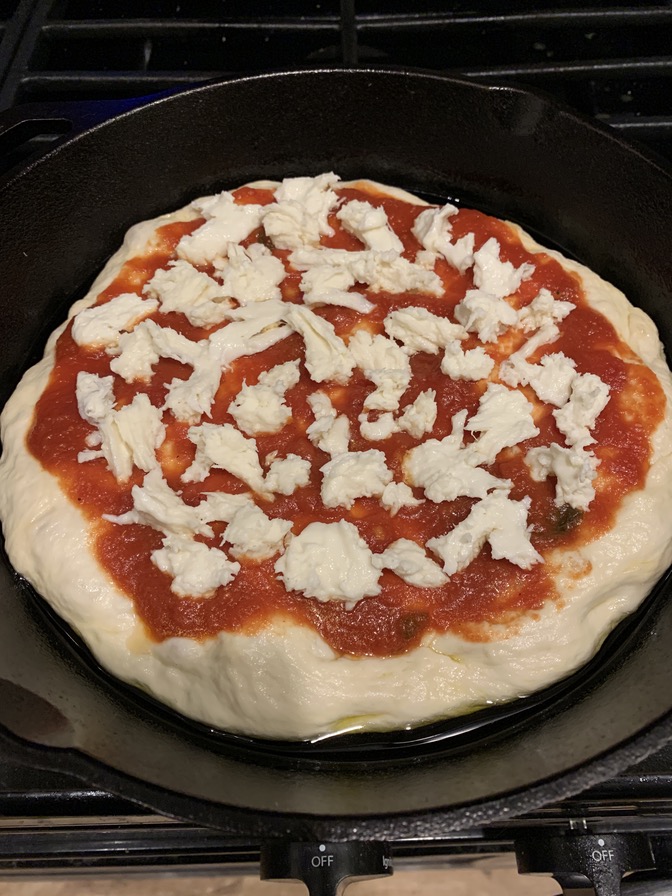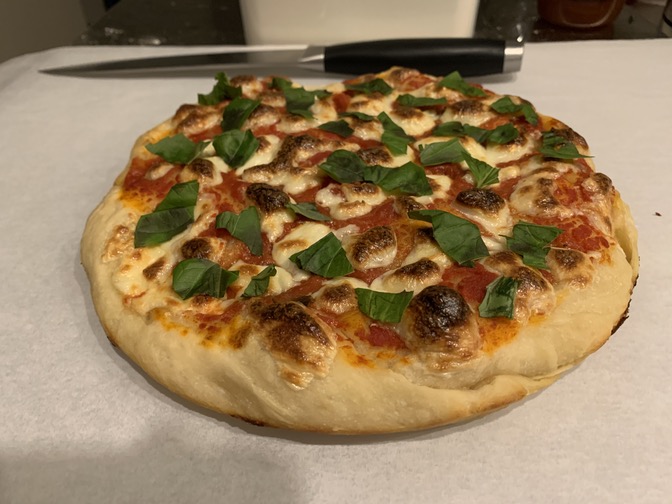 Shortly after my return to the world of sourdough crust, I found myself with
some low-moisture mozzarella (unfortunately not the excellent fresh stuff; I'd used all that up),
some leftover sauce from the pan pizza, and
a bunch of chickpea flour
The natural solution to this situation was to make some thick chickpea pancakes and use them as pizza crusts.
This one is a little different than the recipe from last month. Instead of frying a thin pancake in a nonstick pan on the stovetop, for this I preheated a 10-inch cast iron pan in a 450ºF oven and cooked it in that, oven frying it. Once it was fully cooked, I transferred it to a baking sheet, added the toppings, and continued to bake it until the top was done to my liking.
Pizza with a thick chickpea pancake as the crust.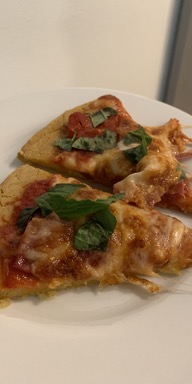 The result was delightful. I made sure to refer to it as a flatbread pizza, because you shouldn't go into this expecting a traditional crust. The chickpea crust is crispy on the outside, but the inside is dense and smooth, with just enough structural integrity to slice well and hold together (but I probably wouldn't try to make one larger than 10 inches in diameter).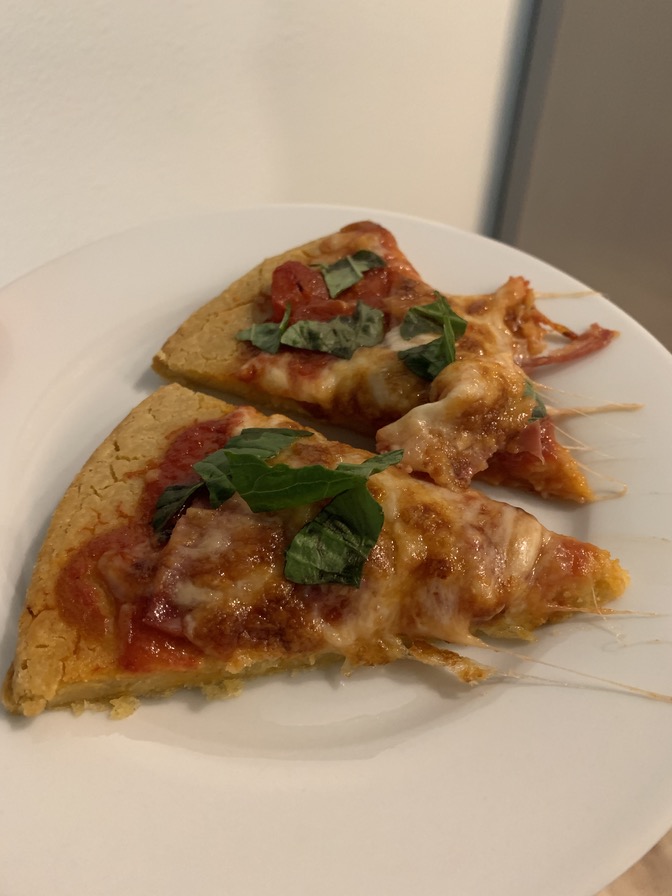 At this point I've found that socca recipe to be versatile enough that it's almost just an ingredient for me. It's an starch component for just about any savory dish, it's easy to throw together (requires nothing I don't keep on hand), and it's even on the healthier side (with more protein and fiber than other functionally similar things).
Now to see if I can do something sweet with it.