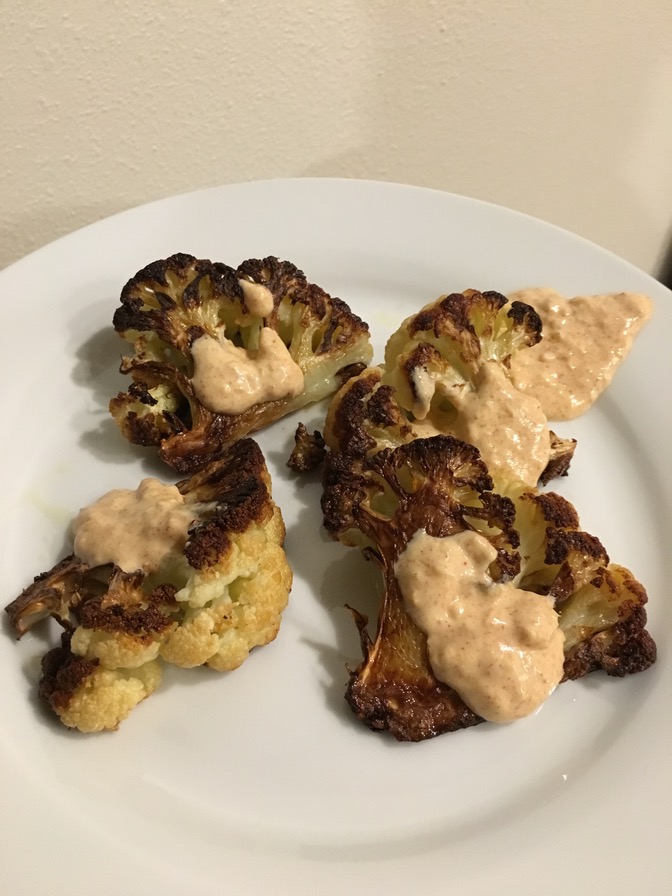 Roasted Cauliflower with Yogurt Sauce
Total Time

1 hour

Active Time

40 minutes

Serves

2-3
Ingredients
Cauliflower
1

head cauliflower

2 Tbsp

olive oil
Yogurt Sauce
½ cup

plain yogurt

2

cloves garlic

1

lemon

½ tsp

smoked paprika
olive oil, to taste
Notes
Dark, deeply roasted cauliflower with a tangy lemon and garlic yogurt sauce.
This is my default seasoning blend for the sauce, but depending on how I'm feeling sometimes I'll replace the paprika with herbs (like thyme, dill, and chives) or sumac. Sometimes I'll add minced capers and use the brine to adjust the salt at the end.
Directions
Preheat your oven to 475ºF. Cut the end off the cauliflower's stem, then divide the head into 8 wedges.
Lay the wedges out on a rimmed, foil-lined baking sheet. Season with salt and pepper and drizzle with olive oil. Flip the wedges over to ensure they're well-coated in oil. Cover the pan with another sheet of foil and seal the edges.
Roast at 475ºF for 10 minutes. Remove foil and continue to roast until the bottom of each wedge is deeply browned, around 15 minutes. Flip and continue to roast until the other side is done, another 15 minutes.
While the cauliflower is roasting, mince the garlic, then make a paste out of it by adding kosher salt and dragging the flat of your knife over it repeatedly.
Zest the lemon into the garlic paste and continue to work it a bit more.
Transfer the garlic lemon paste to a bowl and add yogurt and the juice of the lemon. Mix thoroughly. Stir in paprika, and let rest until the cauliflower is done.
Remove the cauliflower from the oven and taste the yogurt sauce, adjusting seasoning with salt and pepper and consistency with olive oil.
Serve the cauliflower with the sauce over the top, or on the side for dipping.