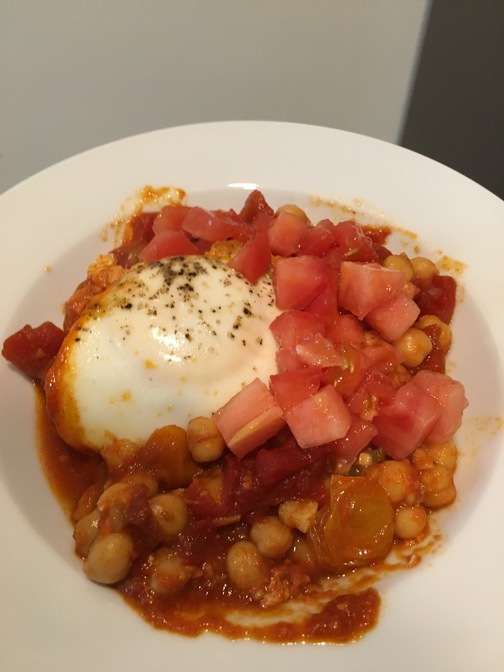 Recovery Shakshouka
Total Time

45 minutes

Active Time

45 minutes

Serves

4
Ingredients
1 pt

mixed heirloom cherry tomatoes

2 Tbsp

olive oil

1

medium white onion, diced

8

cloves of garlic, minced

1

28-oz can of diced tomatoes

1 Tbsp

smoked paprika

1

lemon worth of lemon juice
minced pickled jalapeños, to taste
brine from pickled jalapeños, to taste

2

cans of chickpeas

4

large eggs

1

fresh tomato, diced
Notes
Smoky, just a little spicy, and high protein: shakshouka may be the prefect hangover food.
In a pinch, you can skip the whole deal with roasting the cherry tomatoes and just leave them out. I like adding a bit of roasty flavor to it, but some mornings I don't have the motivation.
You can also add pretty much any vegetables you want, and vary up the spices. I like at least smoked paprika, but I've used different paprika blends, and sometimes I add cumin.
I'd recommend serving this with a good crusty bread, toasted if you like. If you want to add meat, pretty much any sausage would go rather well with it.
Directions
Preheat your oven to 450ºF. Slice each cherry tomato in half and toss with a generous pinch of salt and 1 Tbsp of olive oil. Arrange the cherry tomatoes, cut side up, in a single layer on a parchment-lined baking sheet. Roast for 25-35 minutes, until nicely caramelized.
Heat the remaining 1 Tbsp olive oil in a wide frying pan. Add the diced onion and cook until softened. Add garlic and cook until fragrant.
Add the canned tomatoes, including the juice. Stir in paprika, lemon juice, jalapeños, and brine. Bring to a simmer.
Stir in chickpeas. Cover and continue to simmer until the cherry tomatoes are roasted.
Remove the cherry tomatoes from the oven and use the parchment sheet to lift them and transfer them into the shakshouka. Stir to combine.
Crack the eggs into the shakshouka. Continue simmering for a few minutes, until the whites begin to set at the outside.
Cover and continute to simmer for about 3 minutes, until whites are completely set.
Uncover and dish out portions. Top each one with a bit of diced fresh tomato. Serve immediately.