New Year's Recovery Shakshouka
Wed, Jan 2, 2019

Recipes from this article
This year I decided to host a small get-together on New Year's Day to give a few friends an opportunity to recover from the night before by playing some casual board games and enjoying some good food.
I've long felt that the best possible hangover food is shakshouka: eggs poached in a tomato, chickpea, and pepper sauce. It's a little spicy, it's got some bright acidity and a little smokiness, and it's high in protein.
Smoky, just a little spicy, and high protein: shakshouka may be the prefect hangover food.
In a pinch, you can skip the whole deal with roasting the cherry tomatoes and just leave them out. I like adding a bit of roasty flavor to it, but some mornings I don't have the motivation.
You can …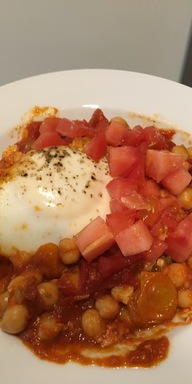 Despite the state I found myself in on the morning of January 1, I decided to make a slightly more involved version than I normally might. Ordinarily, cooking only for myself, I'd probably cut it down to just the canned tomatoes, but with friends coming over I decided to triple up on them:
canned tomatoes for the bulk of the sauce
dark, caramelized, roasted heirloom cherry tomatoes for some extra bitter and savory notes
diced fresh tomatoes for some brightness
I started off by getting the cherry tomatoes roasting, then built the rest of the sauce while that was happening.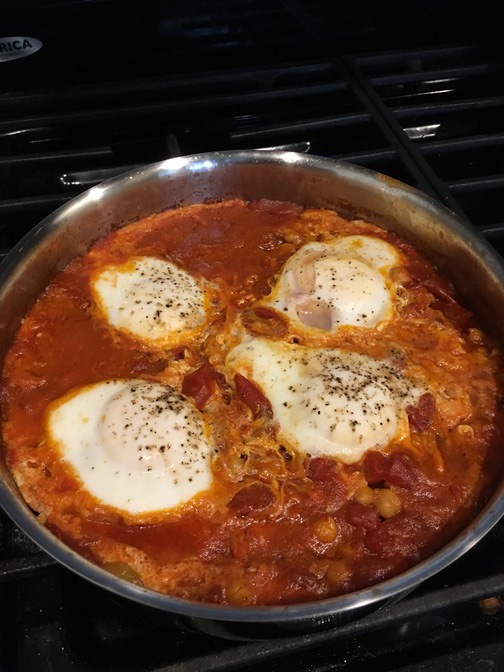 I diced the tomatoes while the eggs were poaching so that when they were done I could dish it up immediately and just top it with some fresh tomatoes.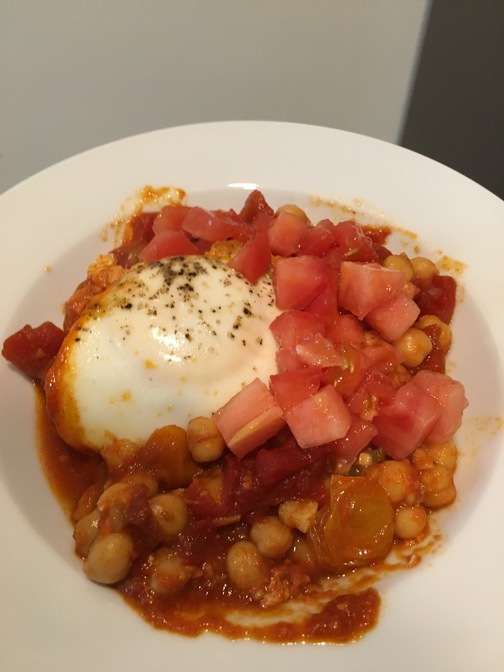 Not pictured were the baguette slices for sopping up the residual sauce and the venison sausage for a little extra smokiness.