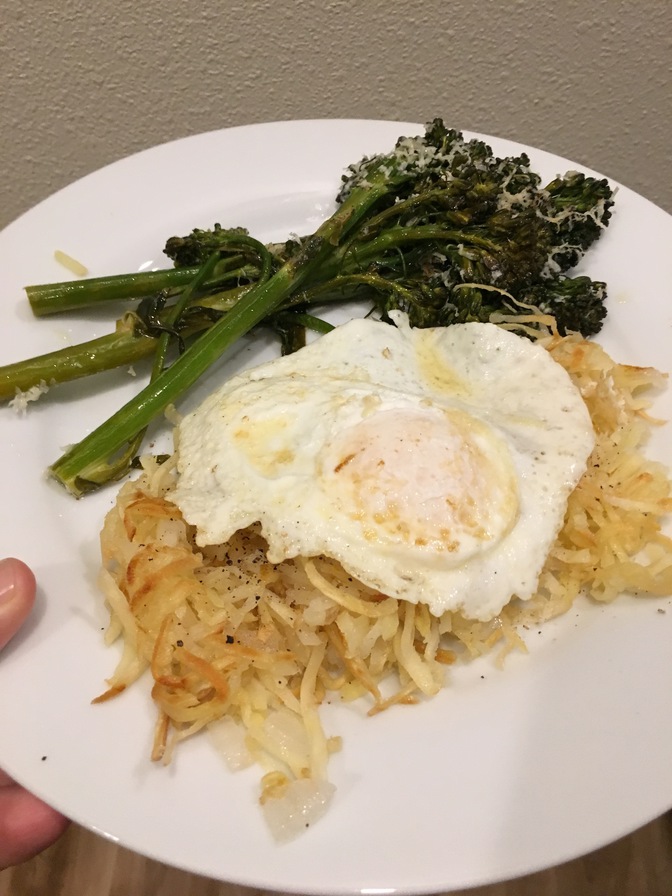 Parsnip Hash Browns
Total Time

45 minutes

Active Time

15 minutes
Ingredients
3-4

parsnips, peeled

½

white onion, diced

hefty pinch

kosher salt
vegetable oil, for frying
Notes
Shredded, scattered hash browns made with parsnips instead of potatoes. Here I describe the most basic form of these I've made, but you can add in pretty much anything before frying.
Anything starchy or fribrous (carrots, squash, celeriac, etc.) can be shredded in with the parsnips. Anything other vegetables (mushrooms, bell peppers, jalapeños, etc.) can be diced and thrown in with the onions. Meats (cubed ham or crumbled bacon) can be tossed in after the salting and squeezing. If you want to go full Waffle House, try melting an American cheese slice on top or topping with chili.
Personally, I love topping mine with a fried egg. I also want to try shredding in some apples.
Directions
Shred the parsnips. For this I'd highly recommend the shredding disk of a food processor or the shredding attachment to a mixer, as they'll porduce rounder shreds, in contrast to the flatter shreds of a box grater. But in a pinch, a box grater will do just fine.
Toss the peeled and shredded parsnips with the onion and salt in a kitchen towel. Let sit for 30 minutes.
Wring out the vegetables. Wring them out again. Again. Get as much water out of them as you possibly can.
Heat up a tiny bit of vegetable oil in a nonstick pan (or on a skillet). When it's hot, scatter a handful of parsnip mixture over it and spread it out with a spatula. If you like more crispy bits, fluff up the parsnips with your hands beforehand and spread them out thin; if you like a more cohesive patty, leave them in bundles and press them down with the spatula.
Fry until the inside is softened all the way through and the outside is your desired level of crispy. Your first few times you may want to start with a smaller portion to dial in how you like them.