Hits and Misos
Sun, Jan 13, 2019

Time for some updates on the state of the denizens of the Fermentery!
Fermented Peppers
The peppers are coming along well so far, but they're not quite done yet. I want to let this batch go for three weeks. Expect a report on the 24th.
Garlic Dill Pickles
My dill pickles turned out better than I could have expected. They softened a bit more than I would have preferred, so maybe the next batch will have some additional tannic elements (2 fresh bay leaves instead of 1 dried, perhaps). They have that slight fizzy feeling on the tongue that comes from an active fermentation, and they came out pleasantly spicy.
The garlic and dill flavors are prominent, so I'll call this one a success.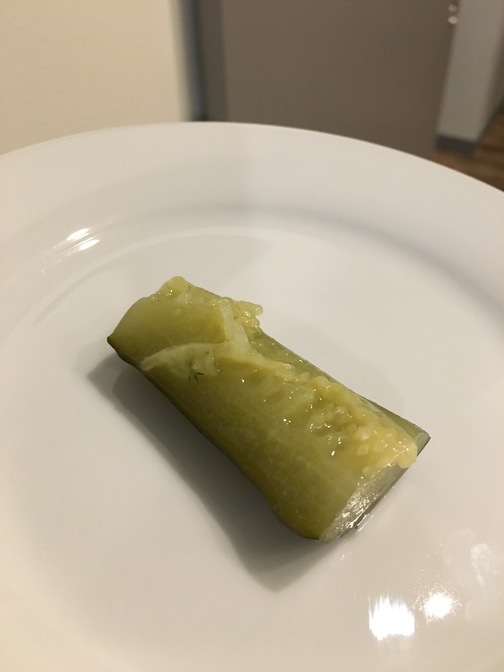 Napa Kimchi
My napa cabbage kimchi turned out entirely too salty, but otherwise fine. I suspect what happened was that I used pickling salt, so my estimation of how much salt was enough wound up being somewhat off. The lesson here is that I should probably use kosher salt for the next one since I have a better intuitive idea of how much to use.
All of that said, the flavor of it did develop well, so I'll eat it. I just need to find application where I can use other ingredients to temper the salt, like fried rice, kimchi pancakes, or an adapted kimchi pork stew.
Cucumber Kimchi
If there's a trend in these results, it's that cucumbers are a really good medium for lacto-fermentation projects. The cucumbers were definitely the more successful of my two kimchis. The salt level is still slightly high, but not so much that I can't eat them raw. They have a pleasant heat level, somewhere in between the dills and the napa kimchi.
As with the dills, I need to play with my tannins to try to keep them a little crispier.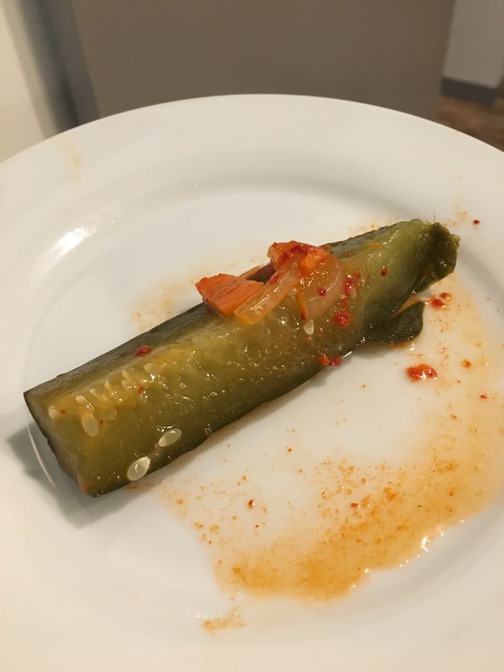 Miso
As much as I love writing about my successes, I think it's important to document my failures as well.
When I went to check on my ongoing miso project for the first time in a little over a month, I found to my horror some rather large colonies of black mold. From what I've read, it's not uncommon for miso to develop small bits of white mold (which you just scrape off and keep going), so I probably could have just removed the top few inches and saved it. But I'm not quite that willing to mess with mold and food safety.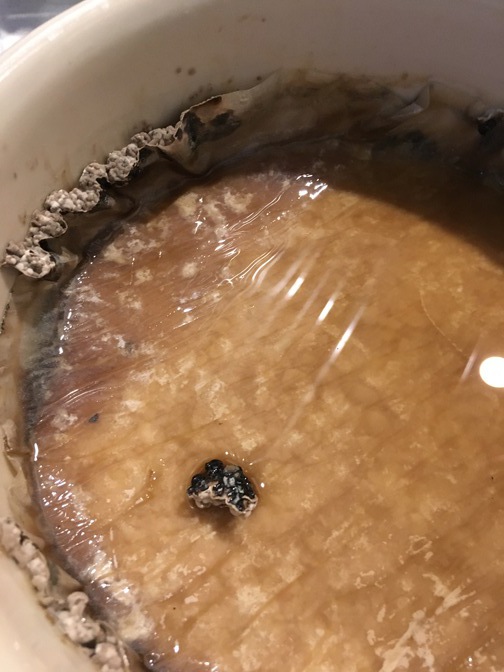 As sad as it was to clean out the crock and lose the whole thing, I did learn quite a bit in the process.
From inspecting the parchment cap, I think I need to be a little more precise in how I cut it, or switch to a muslin cap. I had cut mine a bit wider than the interior diameter of the crock, which left openings for mold to grow.
I definitely need to check on my next batch more often. It's likely that if I'd caught the mold earlier I could have scraped it off before it developed into as large a problem.
As part of the process of extracting the miso from the crock, I also got a fascinating cross-section of the whole process of miso development. The top layer had darkened significantly and had a noticeable funky smell to it (in a good way—it smelled like mild miso). The further down I went, the more it resembled the mixture I'd put in there on day 1: pale with a slight nutty smell. This reinforced the idea that I probably would have been safe just pulling off the top layer.
So I came away from this experience with some lessons, a great glimpse into the intermediate steps of miso development, and some rather good tamari from early on.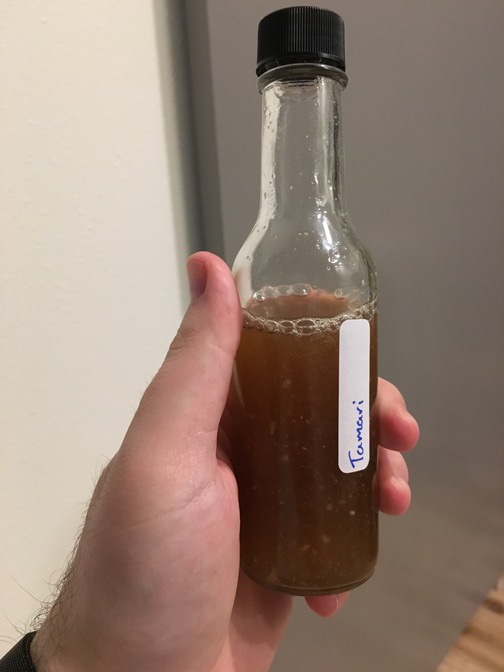 After an acceptable mourning period (read: once I can get my hand on some more koji), I want to get a new batch started, maybe this time with chickpeas.
See more updates for: