Kimchi Stew with Pork Belly
Sun, Sep 16, 2018

Recipes from this article
Okay, so I had some friends coming over, a big slab of pork belly I needed to use, and quite a lot of kimchi. The actual solution to this problem was probably to oven braise the belly and make sliders, using kimchi as a kind of slaw.
But of course that's not what I did. I had to go make it complicated.
I'd been wanting to try braising pork belly sous vide for some time, and not content with generating only one dish to wash I decided to use my pressure cooker to make kimchi stew. So my friends showed up to see a kitchen outfitted like some kind of mad scientist's lab, and I had a hard time asserting that I was not, in fact, a mad scientist. Perhaps that day I was.
Anyway, the stew was a version of this one without the pork shoulder (making it vegetarian as long as your kimchi is!):
A quick and easy Korean-inspired pork stew in the pressure cooker.
For the stock, I usually just heat some water in my kettle, pour it over a bunch of dried porcini mushrooms, steep them for a bit, and strain the stock. You can let it steep while prepping the rest on the ingredients. Alternately, …
And here's the real reason you're reading this at all, the sous vide pork belly:
Small slices of pork belly, braised until they're buttery smooth and then broiled until the edges are super crispy. These are ideal for being served in steamed buns or over rice, stews, eggs, etc. They pair perfectly with crispy pickled vegetables.
If you don't have fermented pepper …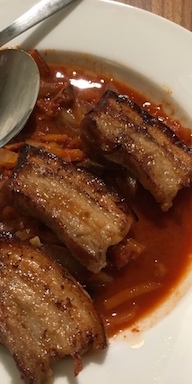 Oh, and if you have some leftover pork belly and need a follow-up dish to use it up, may I recommend something like these: