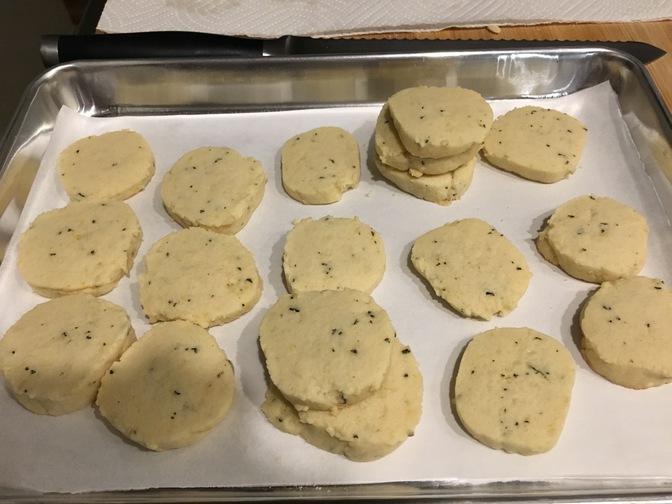 Rosemary Lemon Shortbread Cookies
Total Time

2 hours

Active Time

30 minutes

Makes

about 45 cookies
Ingredients
13 oz

all-purpose flour

2 oz

white rice flour

1 tsp

salt

16 Tbsp

unsalted butter

¾ cup

sugar

3

lemons worth of zest

2 Tbsp

chopped fresh rosemary

1

egg

1 tsp

vanilla extract
Notes
This is the result of a confluence of me being on a rosemary kick and my mother being on a quest for the shortbread cookies of her youth—solid and crisp when you're handling them, but sandy when you bite into them. The trick to getting that texture turns out to be replacing some of the flour with a starch that doesn't have much gluten; I use rice flour for that here.
Directions
Whisk together the all-purpose flour, rice flour, and salt.
In the bowl of a stand mixer fitted with the paddle attachment, cream together the bitter and sugar until fluffy.
Add the lemon zest and rosemary and beat until incorporated.
Add the egg and vanilla and beat until incorporated, scraping down the sides of the bowl as needed.
Turn the mixer on low and add the flour mixture in installments until just combined (no visible pockets of flour remain).
Turn the dough out onto a cutting board, divide it in half, and work each half into a log about 1½-2 inches in diameter. Wrap each log in plastic wrap or parchment paper and chill them both in the fridge for about an hour. At this point, if you only wish to make half a batch, you can freeze one of the logs in a sealed zip top bag. When you're ready to bake the frozen one, simply defrost it in the fridge overnight and resume the recipe from here.
Preheat your oven to 350ºF.
Using a serrated knife, slice each log into cookies and arrange the cookies on parchment-lined baking sheets. They cookies won't spread too much, so you can have them be close, but they shouldn't touch.
Bake about 12 minutes, rotating the pans halfway through. The cookies should darken just a little, but they shouldn't get beyond blonde (i.e., they should not be golden).
Transfer the cookies to a cooling rack to cool completely before serving. Store in an airtight container.