Chickpea Pancakes
Wed, Jan 16, 2019

Earlier this month I encountered a recipe for socca (chickpea pancakes) with a chickpea and fennel salad atop it. It was the salad that originally caught my eye, but in the end it turned out that the pancake was the star.
Shortly after that first experience I made them a few more times, distilling a recipe from the combined advice of the internet.
Since I discovered these, they've become habitual: I keep chickpea flour on hand at all times, and I make these when I can't think of anything else to make. They're neutral enough in flavor that you can eat them any time, topped with just about anything.
You can increase the water …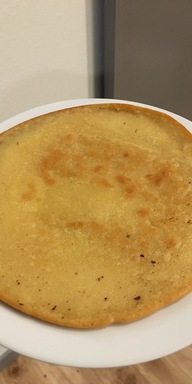 What I love most about these is their simplicity and versatility. It's four ingredients, and I'd bet that most people would only have to run out to buy one of them (and once you try these, you'll want to keep it on hand). Happen to be out of olive oil? Use any other fat that's liquid at room temperature, or cut a little solid fat into the flour before adding the water. Want to use another liquid? Go for it! I replaced half the water with buttermilk in my most recent batch, and they were great.
And that's before you even begin to address the toppings. These pancakes are subtly flavored, so they can complement almost anything. My favorite set of toppings so far have been a combination of sour cream, pickled onions, feta, and fresh dill.